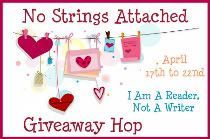 Welcome to the No Strings Attached Giveaway Hop
Hosted by
I Am A Reader, Not A Writer

This giveaway is SOOOOOOOOOOOOOOOOOOOOOOOOOO easy!
Just leave a comment with your email!
That's it…
Nothing ELSE to do!!
Nothing!
Be on your merry way!
Go in Peace!
Oh, well, you might want to know what you win correct?
You get a $10 Amazon, Barnes & Nobles gift card or book from the Book Depository.
Your pick!
Don't forget to check out the Giveaway Policy!
Open WW Ends 4/22
Good Luck!
< img src="http://sweepingme.com/wp-content/uploads/2011/11/sigsweep_edited-1.png"/>