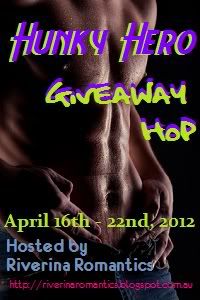 Hosted by Riverina Romantics
Blog hop runs from 12:01 AM April 16th through to 11:59 PM April 22nd, 2012.
Welcome to my end of the Hunky Hero's Giveaway Hop.
I think I was #21 on the list.
This is my idea of a Hunky Hero…Yummy..
What else can I say…
OK, so we really need to stop drooling…
And give you a prize for stopping in…
How about a book from Author Jo Davis?
They all have a Hunky Firefighter Hero…
Need I say more???
No, I didn't think so.
Your pick of one of these books!
Your choice of:
Ride the Fire, Line of Fire, Hidden Fire, Under Fire, Trial by Fire
About the Author:
Bestselling author Jo Davis spent sixteen years in the public school trenches before she left teaching to become a full-time writer. Jo currently
writes romantic suspense, erotic suspense, and paranormal erotic romance for New American Library. She's been multiple finalist in the Colorado Romance Writers Award of Excellence, has captured the HOLT Medallion Award of Merit, has been nominated for the Australian Romance Readers Award in romantic suspense, and has one book optioned as a major motion picture.
She is currently at work on a new contemporary vampire erotic romance series titled LORDS OF PLEASURE for NAL Heat and is also busy writing a new paranormal romance series for NAL/Signet Eclipse scheduled to debut in 2011 under a new pen name. Jo lives in Texas with her husband, Paul, and their two children.
Connect with the Author:
Website
Facebook
Twitter
Purchasing Links: Amazon, Barnes & Nobles, Book Depository
***GIVEAWAY***
Fill out the form to enter!
Please make sure the Book Depository ships to you.
Giveaway Open WW Ends 4/22 (Adult 18+)
Please read the Giveaway Policy before you enter!
Good Luck!
a Rafflecopter giveaway
Please hop along to the other blogs participating in the hop!


< img src="http://sweepingme.com/wp-content/uploads/2011/11/sigsweep_edited-1.png"/>