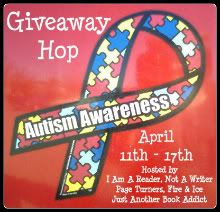 Thank you to the ladies that are hosting the hop:
Kathy at I Am A Reader, Not A Writer
Heather at Fire and Ice
Lindsay at Just Another Book Addict
&
Pixie at Page Turners
As most of you know April is Autism Awareness Month. To help spread the word about Autism we are hosting a giveaway hop.
Each participating blog is hosting a giveaway. You will find lots of variety among the prizes. Some of the blogs are giving away prizes that relate to autism, other blogs are giving away gift cards or other prizes and posting information about autism to help make others aware.
I know the causes and treatment of autism can bring controversy. The point of this giveaway hop is simply to make people more aware about the subject by sharing information and experiences.
For More Information about Austism:
http://www.autismspeaks.org/index.php
http://www.autism-society.org/
http://autism-resources.com/
I am giving away a $10 e-Gift Card to Amazon or a book of choice from the Book Depository up to $10.

Please fill out the form to enter!
Please read the Giveaway Policy before you enter.
Open WW Ends 4/17
Good Luck!
a Rafflecopter giveaway
< img src="http://sweepingme.com/wp-content/uploads/2011/11/sigsweep_edited-1.png"/>