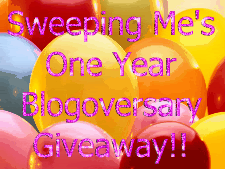 WOW, I guess I should have said it months ago. It was my one year blogoversary in December but my first true post went up in February. So, I was undecided on when my blogoversary should be. Should it be December, should it be February? Then, I had a hard time with what I wanted to give away. Should I give a Gift Card, Kindle, Jewelry, Purse, Books and the list could go on and on. So what I decided to do was offer you – your choice of two things – a Kindle Touch or a Gift Card!!!
Exciting right?
I wanted to thank you for sticking with me for a year. For all those comments you made and times you came back here and tweeted, facebooked and entered my giveaways or left a comment on a review etc. I am still learning this whole thing. But without you I would be nothing. Thank you for sticking with me!
Yes, it is open worldwide. As long as you can receive a Kindle or a Gift Card. I will also be holding mini giveaways for my blogoversary for gift cards, eBooks, print books and some swag!! Every time you see the badge I semi created you know it will be for my blogoversary!
Happy Entering!
Good Luck!
Open WW
Ends 5/2
a Rafflecopter giveaway
Disclaimer: Picture came off the internet. I could not find the owner to put their name on it. Thank you for use of it. Sweeping Me is giving away the prize. No one else is involved. Giveaway Open WW as long as you can receive a Kindle Touch or Gift Card. Non-Transferable. Please make sure you read over my Giveaway Policy before you enter!
< img src="http://sweepingme.com/wp-content/uploads/2011/11/sigsweep_edited-1.png"/>