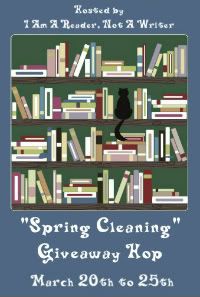 Thank you to Kathy at I Am A Reader, Not A Writer for hosting!!
This hop is to help clean up some books out of my book cases. I am giving you a choice of a box of 4/5 books. Some are read and reviewed and some have never been touched. Some even have the author's autograph. I am not going to list them all. But I do have a bunch and would like to pass these along to someone who would be willing to read and review them. Author's love this and it helps them. I am giving you the choice of genre to pick from:

Young Adult
Adult Romance – Paranormal, Historical etc.
Mystery/Thriller/Horror books.
Mixed Box of Goodies!
I can't afford to ship a box of books Internationally so I will offer some swag if your International.
Fill out the form to enter!
Ends 3/25
Open WW
Good Luck!
a Rafflecopter giveaway
Don't forget to hop along to the rest of the blogs participating! – HERE
< img src="http://sweepingme.com/wp-content/uploads/2011/11/sigsweep_edited-1.png"/>