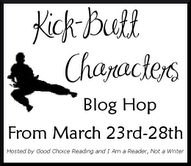 Thank you to our hosts
Good Choice Reading
&
I Am A Reader, Not A Writer
for hosting this hop!
Welcome to my giveaway. I am #43 at last check for this hop.
I think I have some pretty cool Kick Butt Characters for you. I adore J. Gabriel Gates writing style. I have 3 prizes up for grabs. If your reading this Jay I hope that you will send me swag….I would love to give that away with some of these books! That would be cool. Anyway, he's still great and I have a signed copy of Sleepwalkers!! YAY!! OK, I will ship the copies of Dark Territory for US/CAN winners and have one INT winner with the Book Depository shipping it. So make sure they ship to you!
This first book that I thought of when I put my name in for this hop was Dark Territory & Ghost Crown by J. Gabriel Gates:
Blurb for Dark Territory Book 1:
Star-crossed Love, martial arts, and supernatural evil meet at the abandoned tracks in the deceptively quaint town of Middleburg…When Ignacio Torrez moved from the rough streets of Los Angeles to a small town dead smack in the middle of nowhere, he never expected to find himself in the midst of a gang war. But, he soon learns, these are no ordinary gangs. The wealthy, preppie Toppers on one side of the tracks and the working-class Flatliners on the other adhere to a strict code of honor and use their deadly martial arts skills, taught to them by the wise Master Chin, to battle one another for pride, territory, and survival. When Raphael, leader of the Flatliners, falls for Aimee, a Topper girl, the rival gangs prepare for a bloody, all-out war. The only hope for peace between them lies within the dark territory of the abandoned train tunnels where the tracks cross. Under the direction of the mysterious and frightening Magician, the awesome power within the crossing sends the rivals on a terrifying mystical quest to fight the malevolent force that threatens the existence of Middleburg.
Blurb for Ghost Crown Book 2:
A priceless mystical treasure, a dark secret order, and a vengeful fallen angel—forces collide as the battle for Middleburg continues . . .
For gang members Raphael and Ignacio, plans for the homecoming dance are almost as harrowing as their recent victory against the demonic forces that threaten their town. Despite their tentative alliance, a fight breaks out between the preppie Toppers and the goth Flatliners when Topper girl Aimee shows up at the dance with Raphael, the rival gang's leader. In the midst of an all-out rumble, the homecoming queen discovers a supernatural power that causes a potentially deadly catastrophe. Meanwhile, a charismatic half-angel, half-human arrives in Middleburg with plans to steal Aimee from Raphael.
To add to the bizarre circumstances surrounding the town, real-estate moguls begin buying up most of the Flats and evicting the tenants. These mysterious men seek a priceless treasure prophesied in ancient Chinese writings and will stop at nothing to find it. But Raphael and his friends vow to get to it first and use it to reclaim their homes.
As Raphael and the Flatliners and Zhai and the Toppers hone their supernatural abilities and search for the treasure, Aimee begins kung fu training, intent on using her new skills to locate and rescue her mother. When she discovers that the elusive treasure may be the key, the race to find it intensifies.
But there are others who seek the treasure too, and they have the power to reduce all of Middleburg, and perhaps the world, to ashes. . . .
Connect with the Authors:
You can connect with J. Gabriel Gates at his website http://jgabrielgates.com on Facebook or The Tracks Twitter
You can connect with Charlene Keel at her website www.charlenekeel.com
* GIVEAWAY *
It's YA and it's Kick Butt!!
You'll also get a $5 Star Bucks Gift Card if you live in the US/CAN with the book. That way you can have a latte while your reading this great book! If you have the book already I am sure I can pre-order book two for you instead!
Fill out the form to enter!
Open WW Ends 3/28
Good Luck!!!
a Rafflecopter giveaway
Don't forget to hop along to the other blogs particapting!! HERE
GOOD LUCK!!
< img src="http://sweepingme.com/wp-content/uploads/2011/11/sigsweep_edited-1.png"/>