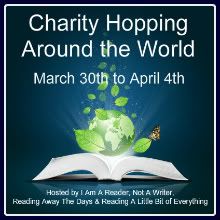 Welcome to the Charity Hopping Around the World Giveaway Hop
Hosted by:
I Am A Reader, Not A Writer
Reading Away the Days
&
Reading a Little Bit of Everything

This hop is to promote a charity that we support.

My Charity is:
When I was doing my coupons in full swing I donated as much as I could to them. You name it, I was giving it to them. What was I going to do with 50 free deodorants, toothbrushes, mouthwashes and things of that nature? I still donate to them. I have another big box that has to be delivered to them next week. With baby food, diapers, more toothbrushes, cereal and things of that nature. Every little thing helps. If your a struggling family in this area it is the ONLY food bank you can go to. My church also collects for Bushkill Food Bank. There are a lot of family's up here that are not working and need all the help they can get.
Some of the services they provide are:
Bushkill Outreach, despite being a food pantry, offers a variety of services to assist people as much as they can.
Monthly Groceries – Bushkill Outreach supports over 1,000 individuals every month. Open Tuesdays, Wednesdays, and Thursdays from 8 a.m. – 12 p.m., Bushkill Outreach provides a monthís worth of groceries to individuals capable of demonstrating both financial need and residence in Lehman or Smithfield township. Bushkill Outreach makes some exceptions to the residence rule but unfortunately cannot extend much further than those townships because of limited funding.
Free Clothes – Bushkill Outreach offers clothes to anyone in need, not limited to residents of Smithfield and Lehman township. Bushkill Outreach has a large range of items and has clothing for a large range of ages. Bushkill Outreach also offers winter coats once the weather starts to turn cold. Like the food pantry, clothes are available Tuesdays, Wednesdays, and Thursdays from 8 a.m. – 12 p.m.
Toys at Christmas and Christmas Store – Bushkill Outreach collects brand new toys at Christmas time and distributes them to families in need slightly before Christmas. Bushkill Outreach gives the families these presents, so the kids will have gifts to open at Christmas. Because of space limitations though, Bushkill Outreach cannot accept toys until October. Bushkill Outreach also hosts a small Christmas store year round.
Furniture Match-up – Bushkill Outreach has a bulletin board of people who are giving away furniture. Bushkill Outreach only advertises the furniture, but Bushkill Outreach does not take or store furniture because of limited storage.
Like I said every little bit helps. If you would like to help this Food Bank you can send your donations to:

Bushkill Outreach
12 Rt 209, PO Box 103
Bushkill, PA 18324
Phone: (570) 588-0660
*** GIVEAWAY ***
I am giving away $15 anyway you would like it.
Amazon, Barnes & Noble, PayPal, Book Depo, Visa (you get the picture).
Fill out the form to enter!
Open WW Ends 4/4
Good Luck!
a Rafflecopter giveaway
Disclaimer: Sweeping Me is providing the prize. Prizes are non-transferable. All opinions on the charity are my own. They are in NO way sponsoring or endorsing this post or giveaway. Please make sure you read over my Giveaway Policy before you enter!
< img src="http://sweepingme.com/wp-content/uploads/2011/11/sigsweep_edited-1.png"/>